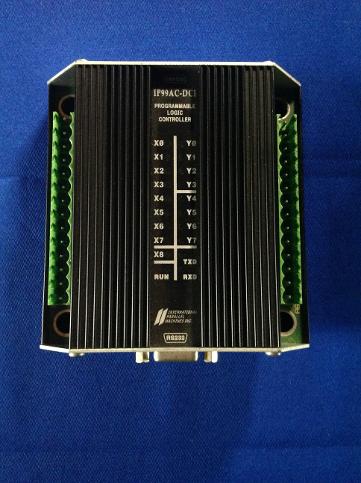 IP 99 PLC
Specifications:
9 inputs and 9 outputs - choice of many combinations of universal 100V AC 60Hz or 220V AC 50 Hz, universal 5V, 12V or 24V DC
Extremely reliable all solid state optically isolated discrete inputs and outputs
Immediate I/O updates
Specialized input – user program selectable for use as an analog, pulse measurement, high speed counter or regular DC input
10-bit resolution analog input using proprietary A/D converter technology, user configurable for voltage or current loop
On and off pulse measurement with microsecond resolution, each up to 30 bits (1,073,741,823 µs, over 15 minutes)
1 MHz 30-bit High Speed Counter
32 timers (16 are millisecond based and 16 are second based)
32 counters (independent of the timers)
256 internal relays
64 data registers, including many user parameters
512 steps of non-volatile EEPROM for RLL program
Instruction set including: contacts, coils, unlimited ladder nesting, subroutines, jumps, shift registers, up/down counters, 15 bit and 30 bit arithmetic
Relay Ladder Logic (RLL), high scan rate of 2 ms/K
Real-time clock (RTC) with calendar, giving century, year, month, date, day, hour, minute and second
RTC alarm and output, with day, hour, minutes, and second, running without external power.
10 year battery for RTC, alarm and memory back-up
RS232 and RS485 communications
User programmable ASCII string inputs and outputs
Automatic Modbusâ RTU network protocol with up to 32 PLC's on daisy chain
110/220VAC 60/50Hz universal switching power supply
5V power output available to user
20 Indicator lights are also user programmable
User selectable RUN, PROGRAM and USER modes
User accessible power up and power fail flags
Panel mount and DIN rail mount hardware included
Heavy duty anodized aluminum alloy enclosure,
110mm ´ 100mm ´ 33mm (4.3" ´ 4" ´ 1.3")
Operating temperature: -30° C to +40° C (-22° F to +104° F),
humidity: 10% to 90% non-condensing
Weighs only 260 grams (9 oz.)
The GREENEST PLC on earth with only 2W power consumption
Proudly designed and made in the USA!
Free 24/7 Internet support. Free 80-hours/week telephone support, once you buy our hardware and software.
One year factory warranty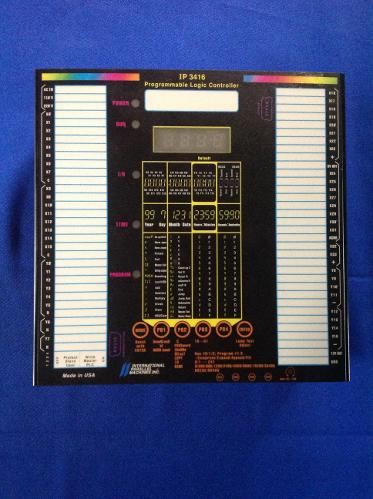 IP3416 Programmable

Logic Controller
Specifications:
SPECIFICATIONS:
16 A.C. inputs, 100V to 220V, 50Hz to 60Hz, optically isolated with 8 ms. filters, LED-indicated;
8 D.C. inputs, 5V to 24V, optically isolated, LED-indicated;
8 analog inputs, 0...5V, 10 bits; 4 of these have built-in 10X to 100X amplifiers (with 10X to 1000X gain available on special request) for direct interface to sensors like thermocouples, strain gauges, pH probes and Hall effect sensors; also usable as discrete inputs with adjustable threshold;
2 high speed inputs, up to 100KHz, optically isolated.
8 A.C. outputs, up to 220V and 8 Amp each, optically isolated, LED-indicated;
8 D.C. outputs, up to 48V and 8 Amp each, optically isolated, 4 of which have individually programmable pulse width modulators at 1 ms. resolution with 1 us. accuracy; total outputs not to exceed 10 Amp.
32 timers, 16 on .01-second base, 16 on 1-second base, with 1 ms. time base available on special request;
32 counters, up or down, plus 30-bit 100KHz counter;
256 internal relays.
Built-in real time clock with time, date, day, year on 10-year battery, with automatic leap year adjustments and year 2000 processing.
Built-in RAM back-up against power fails.
Built in data logging for 16K bytes.
Built-in programmable 4.5-digit LED display.
Internal 110V/220V dual A.C. input power supply. Can also be powered by 15V A.C., 12V D.C. or 24V D.C. on special request.
Front panel may be used as built-in RLL programmer with password protection, or as a field-customized control panel programmed by user. Private labels available.
Relay ladder logic in EEPROM which can store 2 programs of 4K 32-bit words each. User may actually modify the program in the field like using a hand-held programmer while running another program in real time. Removable field-installable EEPROM on special request.
Expanded instruction set including subroutines, shift registers, up/down counters, 16 and 32-bit arithmetic, in addition to contacts, coils, jumps, and unlimited ladder nesting. Math functions include square roots, logarithms, sine, cosine, tangent, hyperbolic and all their inverse functions.
Scan rate 7 ms./K 32-bit instructions typical, with real time scan rate indicator. Immediate I/O updates allow much better response times than other PLC's.
Networkable and I/O expandable via RS485 daisy chain or loop, MODBUS(TM) protocol, master or slave, both RS485 and RS232, 300 to 38.4K bauds, up to 32 master and slaves, up to 1300 m (4000'). IBM(TM)-compatible PC programming and real time ASCII string outputs also supported.
Heavy duty anodized aluminum alloy construction for reliability, EMI immunity and efficient heat dissipation. Standard DIN 43700 instrument case size 192mm (7.6") high X 192mm (7.6") wide X 68mm (2.6") deep.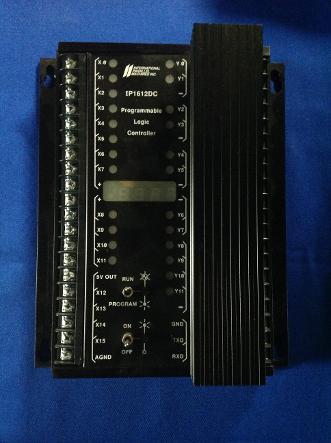 IP1612 Programmable
Logic Controller
Specifications:
Each discrete I/O point is optically isolated to 2000V with an LED indicator. Each A.C. I/O may be used with either 50 Hz or 60 Hz.
Each A.C. input may also be used as a D.C. input of a similar high voltage (good for electric power plants). Each D.C. input may also be used as an A.C. input of similar low voltage (good for liquid level sensing).
Input X11 has a built-in 40 KHz high speed counter.
A.C. outputs have programmable zero cross switching and pulse width modulation.
Each current loop analog output can handle a maximum load of 1 KOhm, or 20 V; each unipolar or bipolar voltage analog output can take a maximum load of 30 mA.
32 timers, 16 on 0.01-second time base and 16 on 1-second time base; 32 counters, independent of the timers; 256 internal relays.
Can either be programmed by relay ladder logic (RLL, see IP-EPS), or driven by computer serial port as an external I/O box for your computer.
Logic includes normally open contacts, normally closed contacts, output coils, set and reset coils, jumps, master sets and resets, step sequencer, nested ladders, nested outputs. Arithmetic includes additions, subtractions, multiplications, divisions, comparisons and expressions. No need to worry about octal notations: its uses decimal device numbering and decimal arithmetic.
Built-in EEPROM holds program of 500 steps indefinitely without power. Can be reprogrammed 10,000 times without the inconvenience of an ultra-violet light. Add suffice -BU to model number for a 10-year battery back up of the process data. Typical scan time is 10 ms. Each I/O is immediately updated in real time, giving you much better response times than other PLC's that update at end of scan.
Built-in programmable 4.5-digit LED display for timer, counter, analog value or other status monitoring and operator interface to program setpoints.
110V A.C. 25W power supply, watchdog and scan rate indicator, power regulator, power fluctuation protection, software hang-up automatic recovery all included. 220V A.C., 15V A.C., 12V D.C. or 24V D.C. power all standard.
RS232 serial port to IBM-compatible host or other computer for program downloading. Real time computer link allows reading and writing of internal PLC data in real time.
Physical: heavy duty metal enclosure, dimensions 215 mm (8.2") long * 168 mm (6.6") wide * 65 mm (2.6") thick, weigh 1.7 Kg (4 lbs).
Environmental: temperature -30'C (-22'F) to +35'C (95'F) with heavy loads, -30'C (-22'F) to +80'C (176'F) with light current loads, relative humidity 10% to 90% non-condensing, shock 20G minimum.
Superb reliability by design: single printed circuit board construction to minimize electrical connector failures, high performance heat sink to minimize solid state electronic overheating failures, 168 hours of elevated temperature burn-in standard.
80 hours/week telephone hot line offers friendly and free technical assistance. Customization also available upon request.